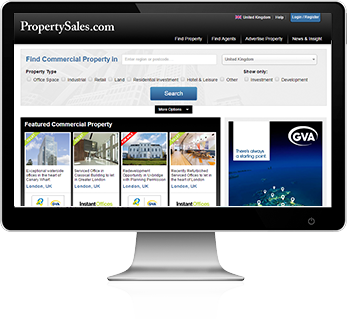 Advertise with us
Are you privately marketing your commercial property for sale or to let? Successfully find the right buyer for your property with PropertySales.com
How it works
1
Create
Add as much information as you like – including photographs, attachments and your EPC as you build your listing with our easy to use form.
2
Review
Buyer responses will be emailed to you as they are sent through the website. We'll also store a record of every enquiry made on your listing in your online account area.
3
Connect
Contact prospective buyers directly and begin the qualification and negotiation processes.
Why advertise with us?
High value audience

Reach an audience of investors looking to explore global opportunities in property and development.
Qualify potential buyers

Include as much information as you like in our easy to use listing builder. Upload images, attachments, video and more to create an informative and detailed listing.
No commission and no hidden charges

Pay a one off fee to put your listing live to thousands of prospects.
Buyer responses delivered to your inbox

Buyer contact information will be sent to you by email as soon as they hit send on your listing. Reply directly to interested prospects.
Real time reporting

Check listing views, access a complete log of all your buyer responses, edit and upgrade your listing within your secure account area.
About us
PropertySales.com is a commercial property website from Dynamis Ltd, publisher of BusinessesForSale.com. With such experienced partners, you can trust us to professionally market your commercial property to our elite business users and investors.
PropertySales.com is the only place to list property locally, nationally and internationally. Whatever your reasons for selling, we understand your need to find the right buyer.
Our experience and technical expertise will help you find such a buyer, and sell or lease your property for the right price.
Market your commercial property for
£195
plus VAT
for
6 months
We accept Visa

We accept MasterCard

We accept American Express
If you're an agent or have multiple properties, please contact us about a corporate account →