Vokins Chartered Surveyors
Summary
VOKINS is a Practice of Chartered Surveyors and Commercial Property Consultants, founded in 1993.

We offer a high quality personal service, combining professional awareness and expertise, with experience and entrepreneurial flair.

Our team provide a wide range of commercial property services, as outlined below:

Disposals & Acquisitions – Using comprehensive methods of marketing and research, including traditional and modern measures, we adopt a personal approach to ensure the fastest and most beneficial outcome for our client.

Development Advice – We can use our local knowledge and expertise to provide advice from the outset all the way through the development process.

Professional – Our professional department can offer effective advice on a range of property matters, to include Rent Reviews, Lease Renewals, Lease Restructuring and Dispute Resolution.

Management – The Management Team can assist you in the effective management of your property – maximising income and minimising short-term problems.

Investment Agency – We have a strong reputation for acting in the disposal and acquisition of all categories of investment property, from working with individual private investors to national funds.

Areas covered
We have a strong reputation for providing expert advice in relation to commercial property, particularly in West London and the Thames Valley, although larger projects are undertaken across the UK.

Areas we are most active in include: TW3, TW7, TW8, TW4, W3, W4, W5, and W7.
Specialisation
Disposal & Acquisition
Development Advice
Professional
Building Surveying
Project Management & Coordination
Management
Investment Agency

Full details of our services can be explored on our website. www.vokins.co.uk


View location on Map
Contact Details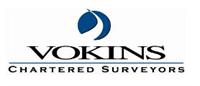 Address

Prospects House
67 Boston Manor Road
Brentford
Greater London
TW8 9JQ
Contact Vokins Chartered Surveyors